Venice, Italy is a beautiful city and a top destination for lovers, friends, artists, and history enthusiasts alike. The city and sights of Venice are built across 118 small islands with 177 canals wandering between them. This, combined with the similarity of the old Gothic style buildings, makes it one of the hardest cities to navigate for tourists. So how does one make the most out of their trip? My suggestion is plan ahead and know where you're going. Now if you don't have the time or energy to plan an entire active day in Venice, no worries, I've done it for you!
You simply cannot go to Italy without sampling the pastries and espresso. So start with a sweet treat or something savory at Pasticceria Da Bonifacio. This place may not look like much from the outside, but serves every type of delight you could want for breakfast. From there you are going to head north to the first stop of the day, Acqua Alta Book Shop. Even if you're not an avid reader, you are bound to find something interesting in this shop. And if the books don't impress you, the book shelves will. The books are held in various mismatched bathtubs and boats to protect them from the frequent flooding. There are also a couple of lovely spot to sit and browse through some literature or watch the gondolas cruise by.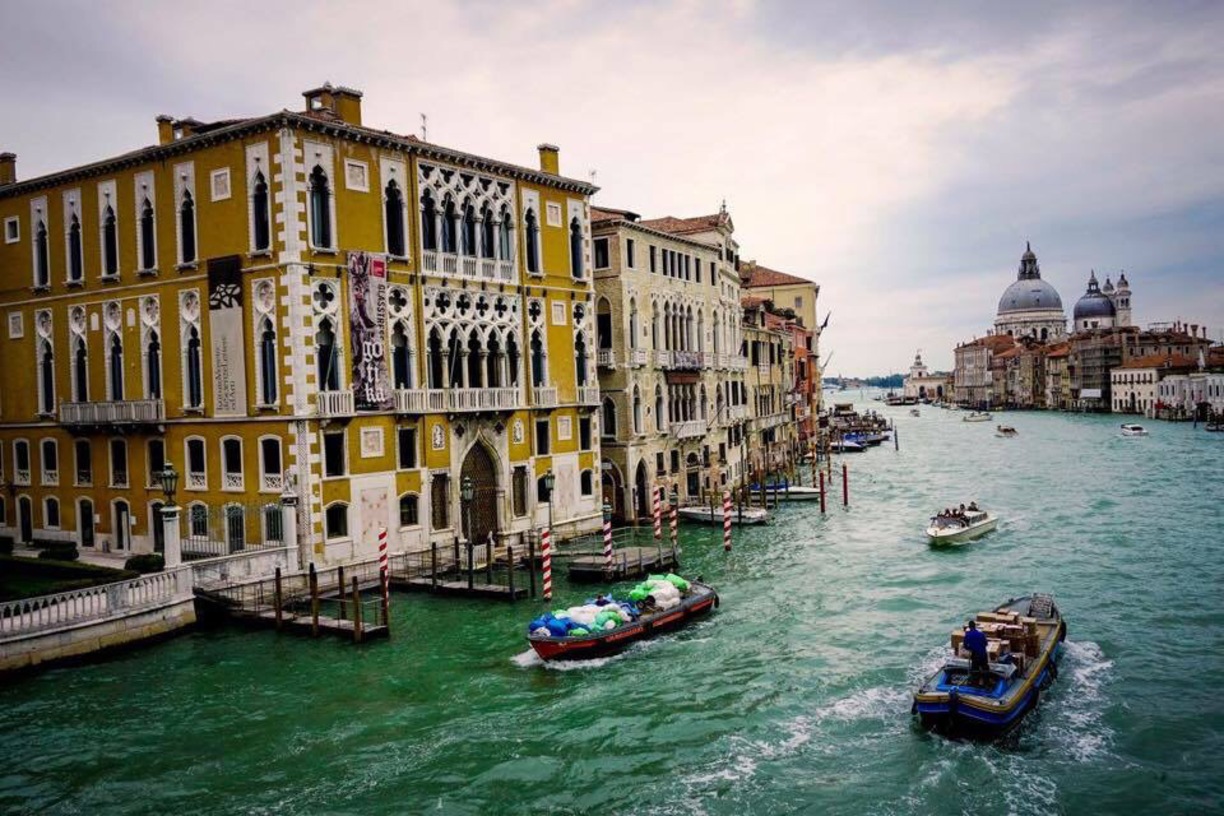 From the book store, start your journey south toward St Mark's Square. This is where you will find some of the most popular attractions, but before you get there take a side trip to the crypt in the basilica San Zaccaria. Unlike other crypts you may find in one of the many ancient churches in Venice, this one is partially filled with water, adding to the beauty with a mirror image of the columns and vaulted ceilings. Now you are free to travel onward to St Mark's Square and all it has to offer. First stop, Doge's Palace. This building dates back to the 14th century and is home to a rich variety of art and history. Buy a ticket and show yourself around or take one of the guided tours for the same price, orif you're planning on visiting more museums in Venice purchase a museum pass.  While at Doge's Palace, you can make reservations online for Basilica di San Marco and the Bell Tower (this option is available April 1 to November 2). This way you avoid spending half your day waiting in line and still get to see the history and learn it's mysterious history. On your way out don't forget to check the south corner of the basilica for the Portrait of the Four Tetrarchs, stolen from Constantinople by the Venetians in the 13th century.
By now you should be starving and you are in luck because you are only a two minute walk from Caffe Florian, the oldest cafe in the world. This restaurant combines the beauty of classic Venetian style with the high quality service of the modern world. After lunch, if you have not had your fill of incredible museums, you can walk over to Museo Correr or if you're looking for something a little different, take the #20 ferry to the San Servolo Insane Asylum. Don't worry, it hasn't been used as an asylum since 1978. Now it is home to a museum dedicated to the history of the asylum and the Venice International University.
Before you start making your way north again toward the Rialto Bridge you'll want to do some shopping in the San Marco area, try Calle Larga XXII street. There is plenty more to see on your way, however, so when you're finished make your way to the Ponte dell'Accademia, a beautiful wood and metal bridge filled with locks symbolizing couples' eternal love. From here, continue enjoying the sights on your way to Ponte dei Pugni, a bridge with marble feet built in to celebrate the many bridge fights that were once held in Venice. After crossing keep going north to the Campo Margherita area for some before-dinner drinks at Margaret DuChamp. From there it's a 15 minute walk to Ristorante Florida Venezia for delicious seafood and breathtaking views of the Rialto Bridge. After dinner, if you aren't full from tiramisu or meringata at the restaurant, cross over the Rialto Bridge and stop in to Suso for some of the best gelato in Venice. At last, if you're not too exhausted from your adventures you can take a water taxi or gondola back down to the Dorsoduro area and enjoy a night of jazz at the Venice Jazz Club.